Stylish Glass chess sets
There is nothing that screams refined style tan a glass chess set, some people even just want it as a decoration. A chess set of this nature is not seen every day because truth is that it isn't appropriate to play, but is an awesome piece of art.
The fanciness that you get from one of these is incredible, and don't let the material deceive you. Even though it is still glass, the process to craft one of these is amazing and it's done especially to avoid it getting broken.
However, a strong point we can name about a glass chess set is the durability. As long as you don't let any piece fall to the ground you will have a chess set that your grandson will enjoy as if it were new.
Today we bring you 5 luxurious chess sets that will be great to decorate your house as few people do, with a fancy chess set.
Garnier glass chess set
The best from this chess set is the nature of the pieces and chessboard that look so resistant even though it is glass. This is simple yet beautiful chess set with a blurry design that is perfect for you.
The company has lots of experience creating these chess sets so you can feel sure about the product's quality. Also, they offer a 7, 10, or 14 inches' chessboard depending on what you prefer and what you are willing to pay.
Every chess piece of this glass chess set is conveniently equipped with felt in the bottom. This will prevent the chessboard to get damaged when moving the pieces across and provide an easy movement.
They give a classic touch to the glass chess work, they are unquestionably offering good customer service, Amazon's opinions don't lie!
An elegant chess set that any chess-lover will surely appreciate, or anyone who wants it as a good-looking accessory.
ZHZHUANG Glass chess set
This is a beautiful 7.9×7.9 inches' chessboard of pure art with a refined design and style that will make your money worth it. It is very light and easy to transport in case you need to.
The pieces are blurred for the white pieces and the black ones are completely transparent. The contrast that the combination of these two is absolutely amazing.
This is best as s gift for anyone, not just chess players can appreciate this glass chess set. It is adequate for adults and children older than three years, almost everyone can enjoy this chess set model.
This chess set is specially done to be resistant, this is made with solid glass. This means that pieces are unlikely to break.
Sellers say they can be really careful with the delivery service and the price for it is very accessible for many budgets.
Glass chess set with dragon design
We have already talked about this chess set in a precious top, but it is one of the best chess sets I have seen, so I thought about putting it in here again.
The chessboard itself is 13.5×13.5 inches and the pieces are very tall with a size consistent with the chess set.
Here you have all of the essences of the medieval fantastic vibe with pieces that resemble the mythical creatures we all fear: The dragon.
With a great and fancy chessboard with a glass board, we could count this as a glass chess set. Although the pieces are not made out the glass, it still has the great decorative any glass chess set has.
The chessboard also has an interesting decoration on the bottom of it, making it look really fantastic. An interesting detail, you will surely fall in love once you see it for the first time! You can find it on Amazon and Chesshouse.com.
Exquisite frosted glass chess set
This is an international safe for the environment glass chess set with an abstract design to improve your house decoration! You will surely get the attention of anyone that enters your house in an instant.
Once again, this chess set counts with felt in the bottom parts of the pieces so they don't get any damage. With a thick resistant chessboard of 14×14 inches, you can carry it easily for its impressive weight.
The pieces are not glass, they are made out of metal with geometric shapes that give this abstract look to the whole chess set. They are made with secure materials to ensure durability and resistance.
I imagine this is the perfect glass chess set to put in a coffee shop with this quiet ambient and some jazz music. The great look of this chess set gives it a kind of futuristic look because of the blur of the pieces.
The chess set comes extremely well packaged and carefully adapted to the box, you can be sure any harm to the chess set will be impossible.
Surprise your family right now with this awesome chess set and enjoy the best chess games of your life. What are you waiting for?
Mirror glass chess set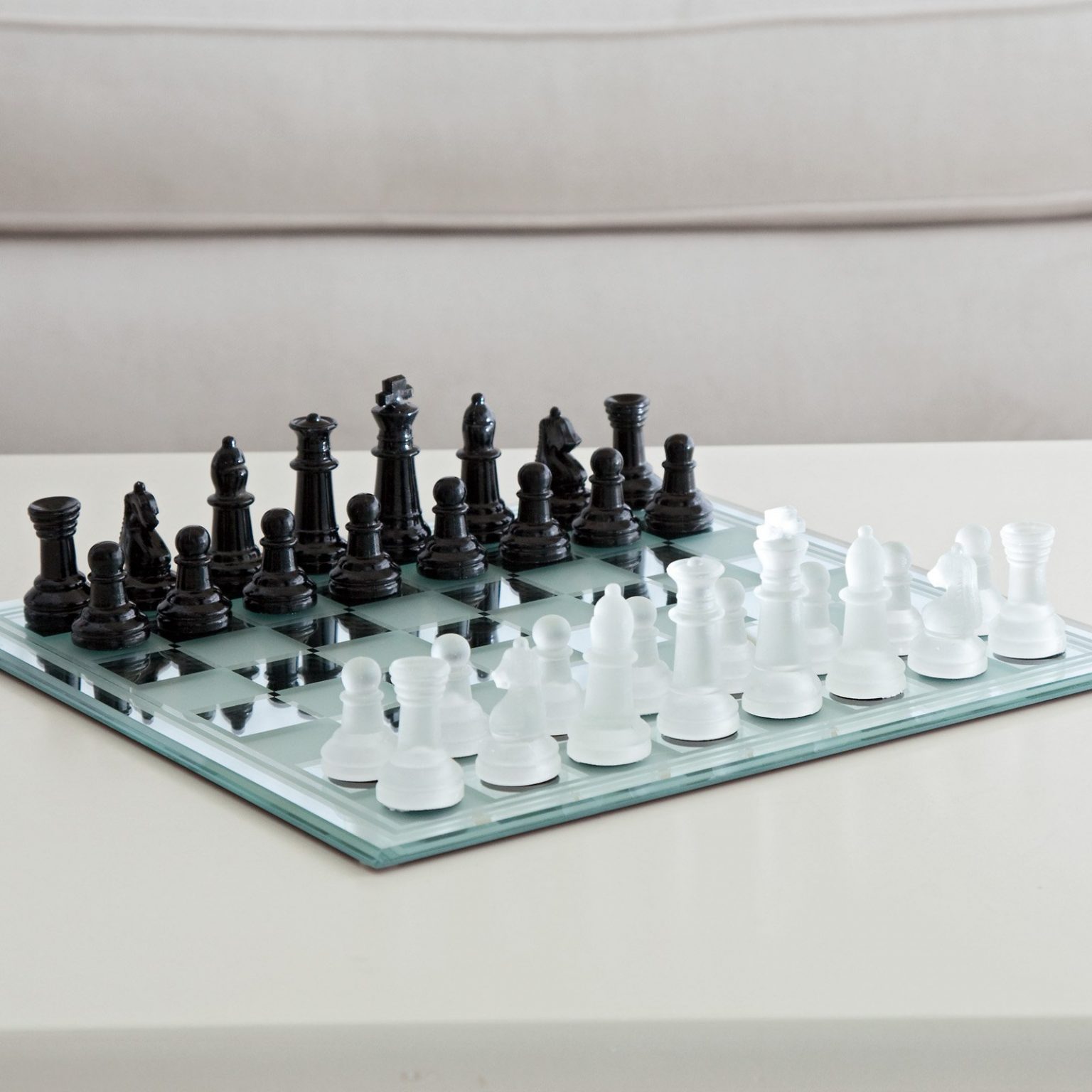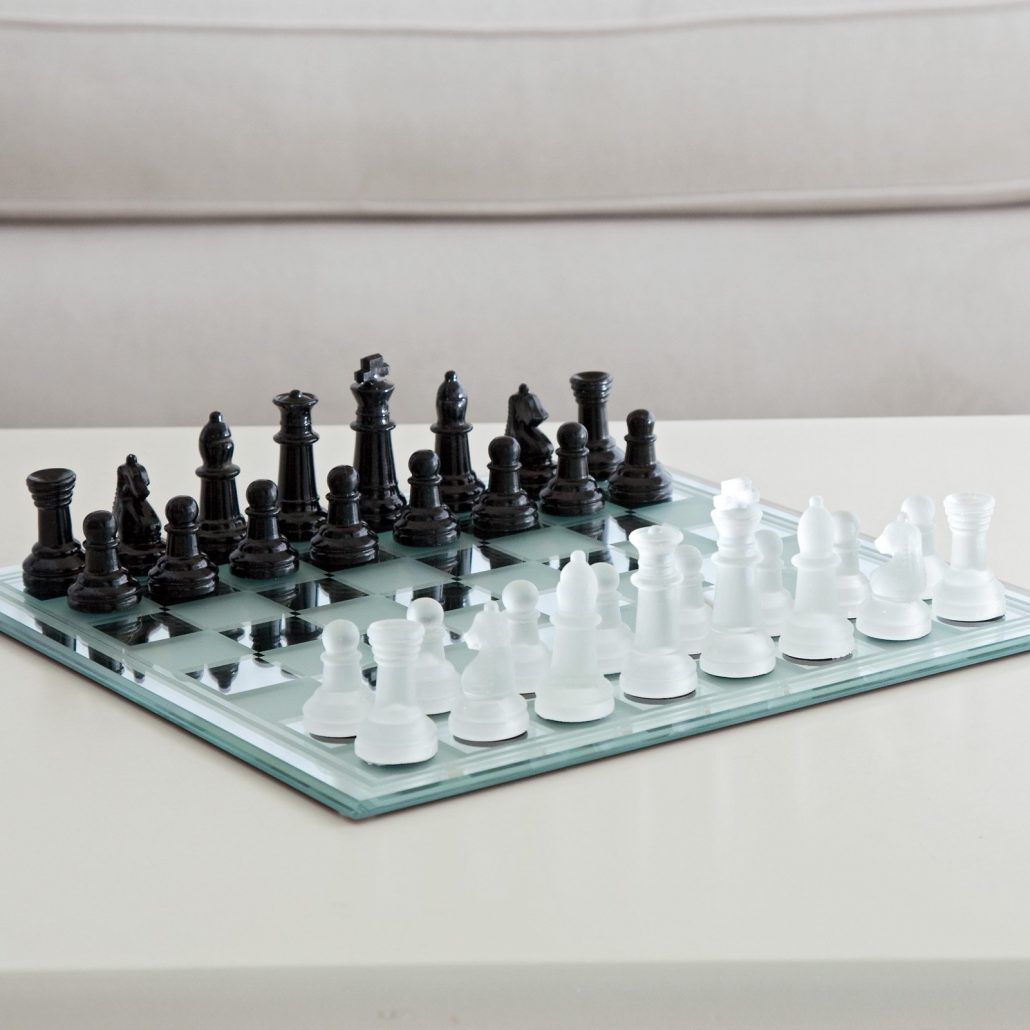 This is a special glass chess set, this one has a level of detail that will amaze you in the spot. It comes with a type of glass design and everything can be beautifully reflected on the chessboard.
There are many types of the same chess set offered by the same sellers so you can choose between the black and white version or the etched version.
It is just exquisite to see how the pieces reflect on the chessboard as you are playing. The pieces have an opaque look which makes them have a strong contrast with the reflective chessboard.
You can ask for yours right now, they are available on the chesshouse.com platform at a very good price. Totally recommended if you are looking for fancy ways to enjoy chess.
You may also like:
5 Excellent Wooden Chess Sets to Fall in Love with Chess!
5 Gorgeous Marble Chess Sets For You