Alberto Chueca (Chess Coach):
"

Only 4% of players who study progress significantly and get their goals…

"
How many times have you studied chess and you've kept the same level?
Reading chess books, without a chess coach, playing rapid games or watching free videos are not going to guide you to progress in chess. Your chess training is not working. This is due to the lack of 2 variables…
1) A successful methodology with the content filter and explained step by step.
2) A professional chess training and personalized advice of a chess coach.
I'm Alberto Chueca, International Master and FIDE Trainer and my team and I want to help you. Discover who we are.
Follow a manual added link
Arvind Vidyarthi, father. The United States.
Vyom & Omya has been learning from Coach Alberto when they were USCF rated ~1500 & ~1000 respectively. Coach Alberto played a critical role in understanding Vyom's weaknesses and helped him overcome them. He has been an exceptional coach with a lot of patience with kids. He played an instrumental role in teaching them different openings for both black and white. He was always available to help/guide them. He helps to analyze the games and suggest good moves. Our kids are very comfortable with the teaching style of Coach Alberto. He being an active player also helps as he shares the learnings from his games and experience as well.
Follow a manual added link
Shiv Shome, Top 10 World U-11. India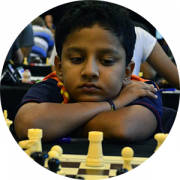 Alberto is giving me step by step guidance on how to progress in chess. Because of his strong repertoire and game analysis support I was able to get an initial rating of 2148. My sincere thanks to my mentor Alberto who constantly supports me in my game analysis and helped me strengthen my game before going for the next rounds. He has a huge database bank of knowledge which caters from beginner to masters level. Thank you, Alberto, for being there in my chess journey.
The ultimate chess training – Discover "The Chueca Method"
Acquire chess patterns, key concepts and strategies with a professional chess coach to improve your rating and a proven methodology that gets results. Moreover, our lessons are focused on concepts explained step by step according to your level.
We want to help other chess players and teach them the correct process to learn chess. The perfect chess training for you. Due to this, we have designed one of the most professionals chess communities to progress in chess: The Rebel Alliance!
We will check your level and I will give you the concepts and the tools that you need (depending on the strength you've got) to progress as soon as possible, like a rocket! Get the chess teacher you need!
Others students, rebels, are already getting incredible results applying "The Chueca Method" and are enjoying and learning chess in The Rebel Alliance.