The most luxurious chess tables to find on the internet
We know how important it you is to have your chess table to play comfortably and nicely. A chess table can be a lot of help for anyone who wants to play outside of their houses.
Some street chess players carry around their own tables so they can just get in the first spot they like to play. It is very nice that people are willing to do that, it provides a better space to play chess.
There are many types of tables specialized for playing, normally you can find very accessible ones almost anywhere. But the most commercial type of these is the ones to play chess, backgammon, and dominoes.
These chess tables are specialized for chess, which means they have some facilities that kind of table won't provide you. If you want to have your own table keep reading to find the best quality-price relationship on this topic.
Mountaineering chess table
We start with a fantastic product that is not exactly a chess table but it can work like that. The mountaineering chess table will offer you the comfort to play more than just chess.
This table has a lot of good features, one of them being portability and comfortability. You have practically two tables in just one with a chessboard included having a quick game.
As I said, this is not exactly a chess table, but it can still work like it, and you will surely don't regret your purchase. The second table below the main surface allows you to store your drinks and some other thing as you play.
Also, the base, design, and weight are very convenient to get along with and move all you want. You will enjoy several good chess games here for sure, you will like it.
There are several designs and colors that you can choose as well, you just have to decide which you like more.
Your own chess table style
This is not precisely a chess table, yet, it is a service that will make the perfect table for you adjusting your needs. You can order and specify to the seller which table you want and how you want it.
After you do that, all you have to do is to sit back and wait for your new customized chess table to arrive at your house and you will be ready to go.
They offer high-quality vinyl material to make the chess table and they are very quick to answer their orders! The positive rating of this service on Amazon speaks very well about the distributors.
What could be better for a product than having your own style and ideas reflected on it? This is an infallible way to give a service customized attention and customized product, all in one.
The process is very simple and the seller makes it pretty easy for you, also the time to respond is normally quick and effective. The price is marvelous as well, one of the best options to get the table you are looking for.
LaModaHome chess table
Check it out!
This is a wooden chess table made to enjoy some games with a cup of coffee quietly. The entire table is wood and the quality standards are pretty high for the product.
The wooden table is completely polished and shows up a simple yet beautiful design of the table structure. One of the most comfortable tables to play chess that you will find on Amazon.
Its size and the versatility of the product will allow you to move it around with absolutely no effort. The best part of it is that comes with a luxurious chessboard to play on along with a backgammon board.
You can just flip the board and you will have the backgammon table or the table depending on what you need at the time.
Lastly, they will offer you a 30 days guarantee in case you don't like the product or you have problems with it. The chess table is amazing and absolutely worth your purchase for that incredible look.
Butler Carlyle chess table and chessboard
This is a chessboard and a chess table all in one that you can use and surely enjoy for backgammon as well. The size of the product will allow you to take it anywhere you like with no effort.
The chess table comes with a drawer as well so you can store the pieces of your chess set on the table. Another important aspect is the design and the quality of the materials that the table is made of.
It is fossil stone so the table and the beautiful materials give it an antique look and match very well with the chess game. The perfect match for this chess table would be some marble pieces.
This is how you will play an original and very quick chess game with your friend anywhere you desire.
Flex able 12 inches' chess table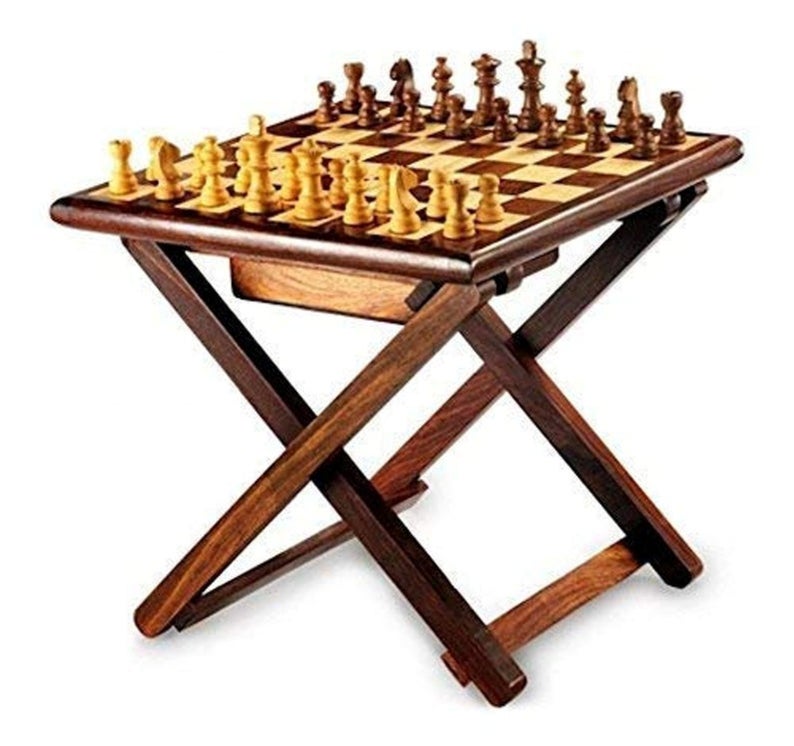 This is a quick game and flexible chess table that will give you a lot of fun for you and your friends. This one of the easiest to carry and move, you can literally put it on your bike and go anywhere easily.
Here you will get a complete wooden table with a varnished surface that is durable and hard. You will have a lot of time with this chess table if you take care of it correctly, it is so good for quick games.
This table is handmade by professionals on the matter with a lot of experience. The whole table goes perfectly with wooden chess pieces, to match it well and have good games.
Top 5 Magnificent Glass Chess Sets!
5 Excellent Wooden Chess Sets to Fall in Love with Chess!