Who is Magnus Carlsen?
Magnus Carlsen is a Norwegian chess grandmaster and currently is the chess world champion in its three modalities: Blitz, Rapid, and classic. The history of Carlsen is an interesting one, he was a prodigy who was in the frame of the best chess players of the world he was a boy.
This mastermind of chess didn't stop surprising the chess community since he played his first tournament when he was 8 years old. From there, he started a marvelous chess career full of success and a lot of work of course.
He had a lot of ups and downs in his chess career, and some controversy as well, as all of the celebrities. He was trained by the living chess legend Garry Kasparov and the Super GM Simen Adgestein, seven times the national chess champion.
He was the second-youngest world champion in the world when he first achieved the world championship when he was 22 years old. The life of this young master is something to admire, with firm and constant pace he achieved to be the best chess player in the world.
There is an important curious fact about Magnus Carlsen is that he takes chess as what it is: A-game. He is a very calm player; he has said in interviews that he doesn't worry too much about being competitive.
I personally believe that this is an important factor that was imperative for Magnus's success.
How to be a prodigy by Magnus Carlsen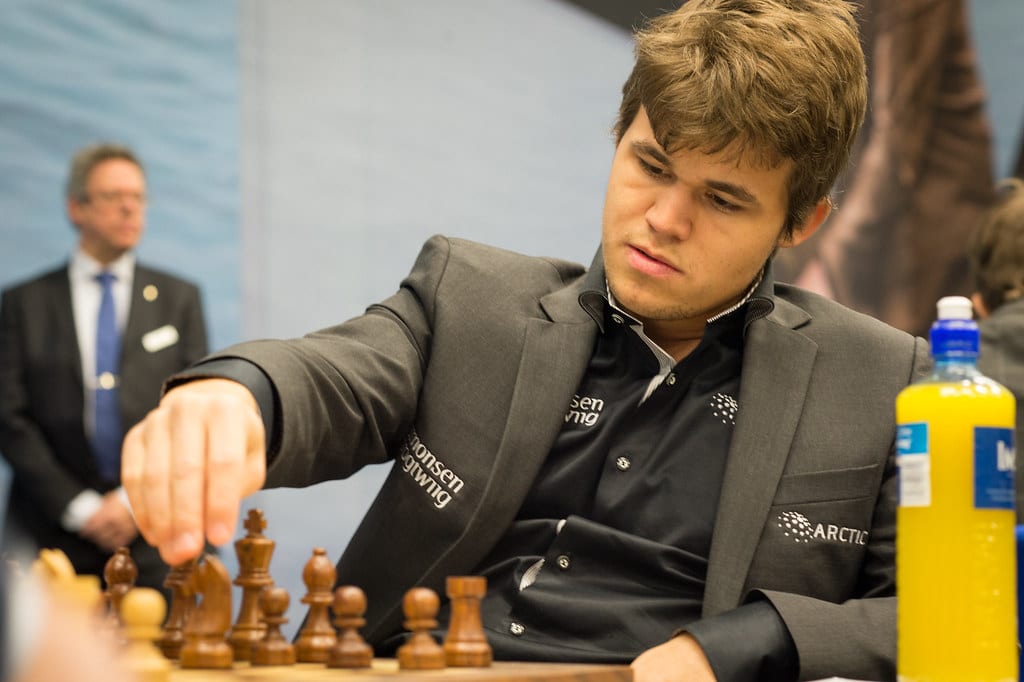 Magnus was a normal kid as anyone, he attended school, he liked to play with LEGO sets and play soccer. Different from what some people would think that he is some kind of "freak". This is what he said in one of his quotes you can read on Magnus Carlsen's App.
Magnus Carlsen learned chess from his father who was an amateur player of the age. The chess passion kept growing within Carlsen, the champion he always had inside was coming soon.
Just in the year 2000, Carlsen raised his rating from 900 to 1907 and he continued playing and excelling in junior tournaments. In 2010, ten years later, Carlsen had gone on to win the important Corus chess tournament celebrated in Holland.
By this time, Magnus Carlsen was already amongst the circle of the best chess players in the world. Playing matches often in different tournaments with players like GM Levon Aronian, GM Hikaru Nakamura, GM Peter Leko, and many others.
Magnus Carlsen's fierce playstyle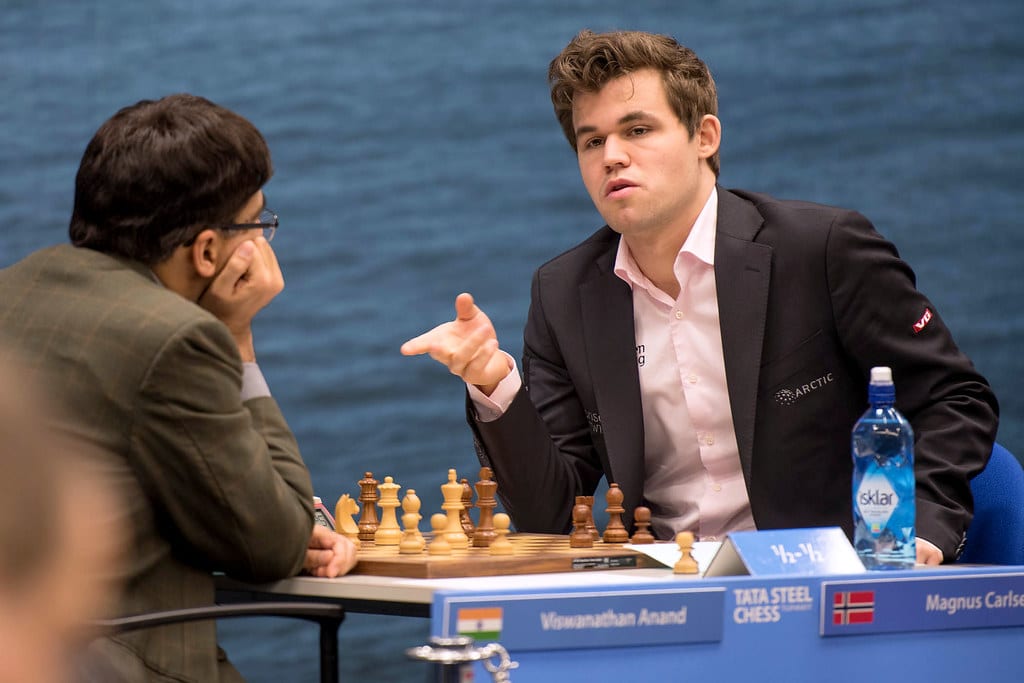 The first chess coach that Carlsen had was the GM Simen Agdestein, chess player, writer, and football player. They started to work together when Carlsen was still a kid and Simen remembers some of the strong points Carlsen had in their game.
"Carlsen always had a growing desire to give away material in exchange for the initiative and the attack". Adgestein remarks on his incredible memory and the number of openings he played was so big, which is unusual at those levels.
Carlsen kept playing with a relatively quiet profile (I mean he was not famous yet). In 2004 he played Garry Kasparov in a tournament, having won against a wide variety of well-talented chess grandmasters.
That was marked a before and an after in his chess career, where he started to be more motivated and probably made him feel like a player with serious chances of becoming the world champion.
However, he was not the only one who believed in his incredible talent, GM Garry Kasparov revealed he was secretly training Magnus from January 2009.
But wait, I know what you are thinking, you want to know how was the encounter between Carlsen and Kasparov? I'm glad you asked.
Magnus Carlsen vs Kasparov (The kid against the ogre)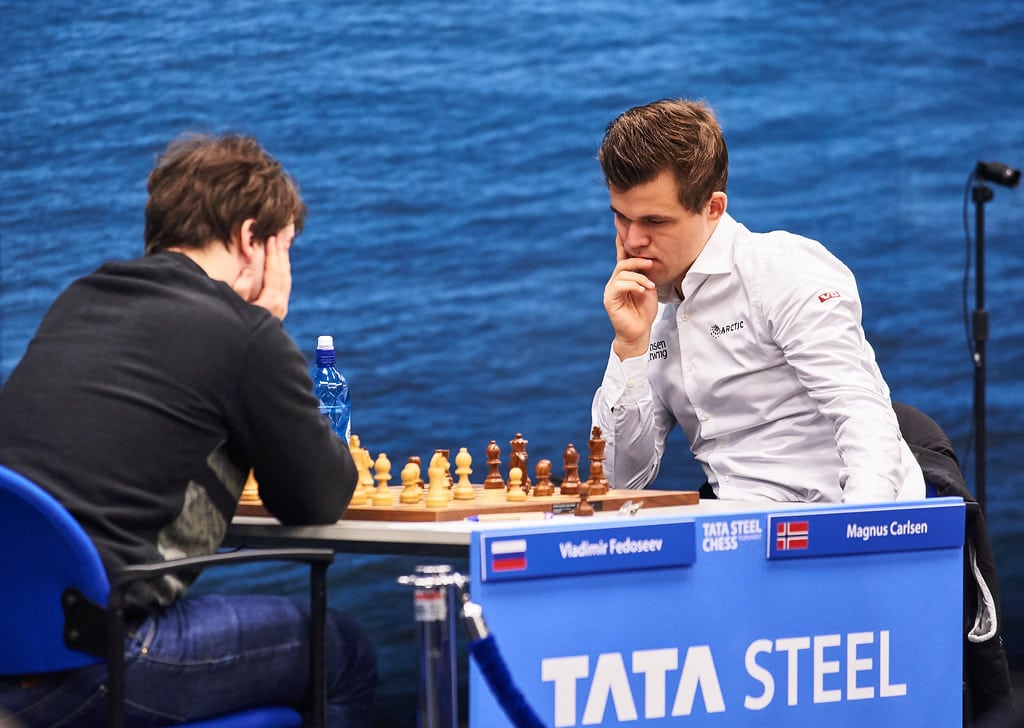 We are in the Reykjavik Rapid chess tournament where the young Magnus Carlsen is about to play against the ogre Garry Kasparov (2004).
The game was an interesting one, everyone was expectative wondering what the next move would be. Although master Kasparov was one of the best in history, people had good hopes for Carlsen.
It was a very dynamic game, in which sharp and well-calculated moves were displayed on the board. Magnus Carlsen with the white pieces always had the upper hand with slight initiative.
However, the champion Kasparov would not easily be beaten and put in some work to get some initiative himself. But Magnus Carlsen was able to exchange queens with his opponent having a pawn of advantage.
However, in a rook and different colored bishops ending, Kasparov got some dangerous initiative and finally, they agreed to a draw.
The game was closely watched by everyone at the tournament, it was stunning for the crowd that the kid got a draw against Garry Kasparov. This was an intense fight between the chess minds that we rarely see in chess's competitive world.
The world champion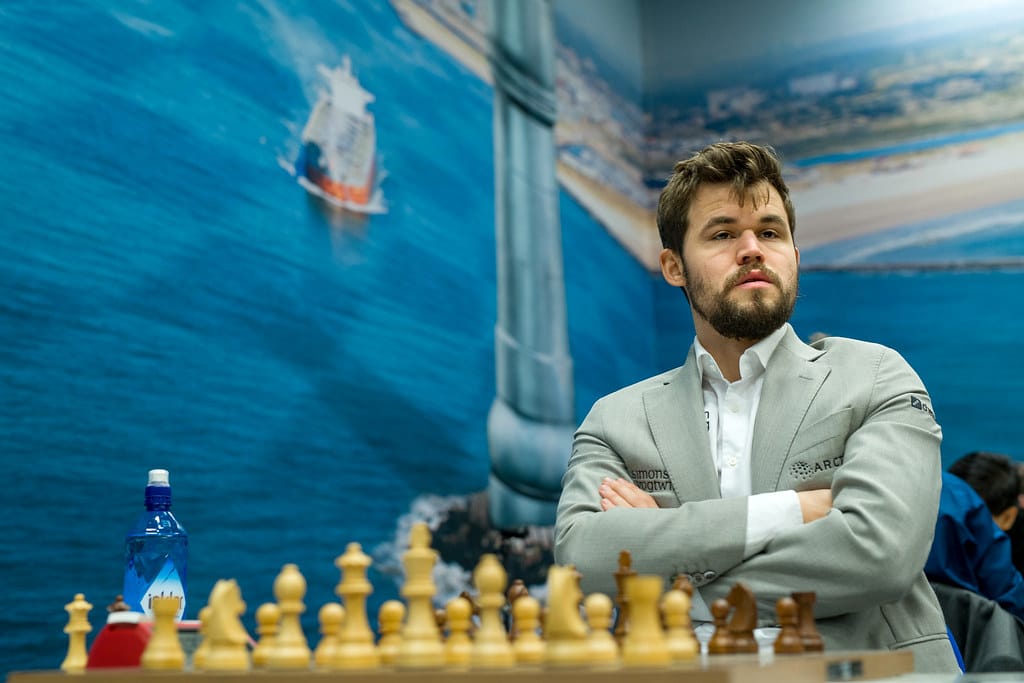 It was in the 2014 world championship match for the maximum title, where both players were giving their best.
The young contender GM Magnus Carlsen was playing the Indian 5 times world champion, GM Viswanathan Anand. The games played in this match can teach you a lot of good lessons if you are a new player.
The dynamism and the strategic and positional understanding shown by both players is exquisite in the whole match. But this was the moment in which the indisputable 5 times chess world champion "Vishy" Anand lost the title against the prodigy Magnus Carlsen.
And this was the moment that marked down the start of the "Carlsen's Kingdom" and a new start for the chess champion. Nowadays 7 years later, Magnus is still the chess world champion, he has remained unbeatable all of these years.
There you go, the history of what some call "the modern Bobby Fischer" in action (but without the cold-war details) the super-GM Magnus Carlsen in action.
 You may also like:
 Fabiano Caruana the Chess Prodigy, What is his Story?
How to use the chess queen to take over the tournament