Chess is one of the oldest and most beloved board games in the world. From ancient kings and queens to modern day grandmasters, chess has been used as a game of skill, strategy, and wit for centuries. And now, with the invention of Lego Chess Sets, the beloved game has been reinvented with a fun and unique twist.
Lego Chess Sets bring together the creativity and imagination of the Lego brand with the timeless game of chess. Both traditional and creative versions of chess sets are available in a variety of colors, styles, and pieces. From Harry Potter themed sets to classic black and white pieces, it's possible to find the perfect Lego Chess Set to fit any individual or family's play style.
Traditional Lego Chess Sets
Traditional Lego Chess Sets include a buildable chessboard and buildable playing pieces. These sets typically include over 1,400 pieces, and the boards typically measure around 10 inches (26 cm) square. For those looking for a classic game of chess, these sets are perfect for both beginners and experienced players alike. And with the board opening up to store all the pieces inside, it's easy to take this set almost anywhere.
Creative Lego Chess Sets
In addition to traditional sets, there are also plenty of creative Lego Chess Sets available. For example, Lego has released Harry Potter themed sets, Star Wars themed sets, and even a Lord of the Rings inspired set. Each of these creative sets offer a fun and interesting twist on the classic game of chess.
For instance, the Harry Potter themed Lego chess set offers a magical and exciting way to play chess. This set includes 876 pieces, and it's an enchanting introduction to the game. With Snape as their golden king, young players can immerse themselves in the wonderful world of Harry Potter.
The Star Wars themed chess set is also a great twist on the classic game of chess. This set includes 32 Star Wars-inspired chess pieces, including Snowtroopers, Tie Fighters, Boba Fett, and Darth Vader, for an out of this world battle.
For a more individualized game, some Lego fans have even taken it upon themselves to create their own custom chess sets. With an array of Lego pieces and an imaginative eye, it's possible to create a custom chess set that reflects personal style or is inspired by any theme.
Buy or Build Your Own LEGO Chess Set
LEGO Chess Sets can be purchased online or in stores. They are typically reasonably priced, so even those on a budget can purchase a set. In addition, there are plenty of secondhand or vintage sets available as well.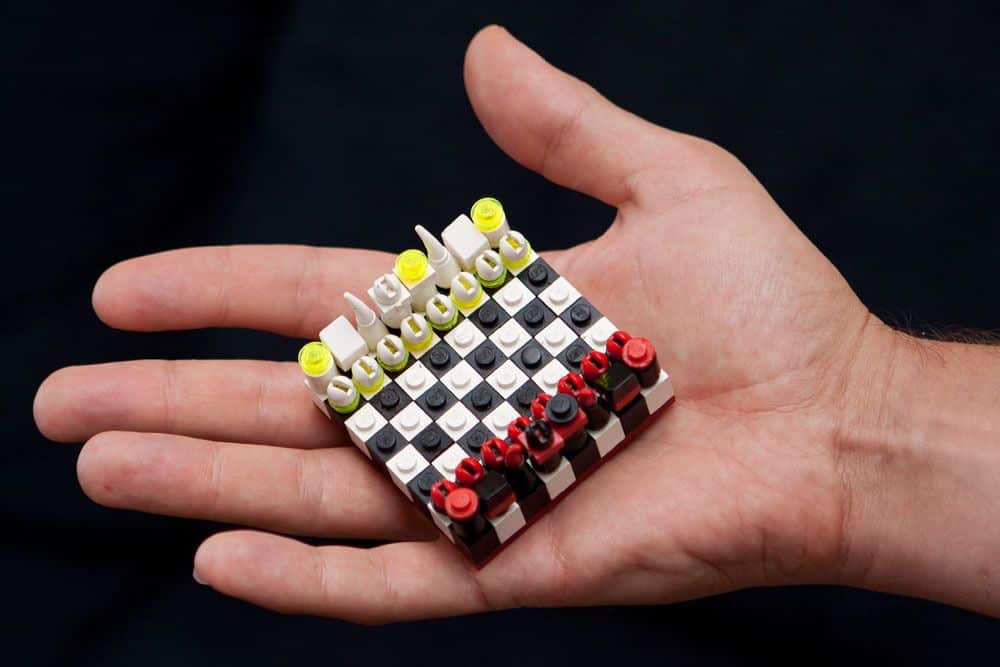 For those looking to create their own custom set, the process is relatively simple. All a person needs is a basic understanding of Lego bricks, along with an idea of the pieces they would like to create. There are a variety of tutorials available online that can help even a novice Lego builder create a unique and interesting chess set.
Conclusion
Lego Chess Sets are a fun and unique way to play the classic game of chess. With traditional sets and creative themes to choose from, it's easy to find the perfect set for any individual or family playstyle. Additionally, building one's own custom set is relatively simple and provides a great way for individuals to express creativity and showcase their unique style. No matter how it's played, Lego Chess Sets are a great way to have fun and enjoy the timeless game of chess.
Having a lego chess set is awesome, but it's important that you learn the Chess Piece Moves so you can play.