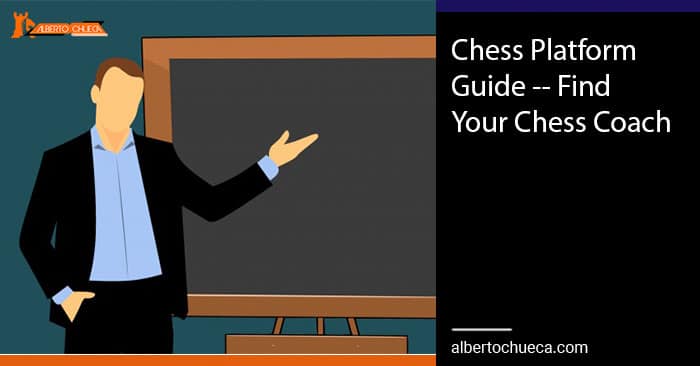 Last Updated on
5 platforms to find your chess coach
Almost by general culture, people know that in the sport of chess the aim is to overthrow the king of the opposing team. It can be read simply, but don't be fooled, things are not as easy as they seem. In order to achieve this goal, you must develop a strategy. Where there is no room for mistakes, as any mistake, no matter how small, could completely damage your game. For that reason, you need someone who can be your chess coach. Chose the chess platform of your choice that are a good option for you.
There is a reason why chess is considered a mental sport. You have to train hard to get it right. There is no room here for random movements. So you should use platforms to find the best chess coach.
Some people think that this game could be boring, or very difficult. The truth is that it's one of the best ways to keep your mind active. If you play it with friends and they compete with each other, it could become quite fun. It's an activity that improves your ability to analyze as well as developing the ability to make quick decisions.
The difficulty is that in addition to thinking carefully about how to attack your opponent. You cannot forget that you also have to protect your king. If you only concentrate on attacking, you could forget that you are also being attacked.
Play chess is easy!
You only need two elements, although if you want to do it in a more formal way like some competition, the elements are three and we explain them below:
– The board: this is a square that is divided into 64 squares also known as escaques. Traditionally are alternated in black and white, although there are currently color variations. There will always be a dark color and another light color.
– The pieces: of course they are a fundamental part of the game because for quite obvious reasons without them there would be no game. Each player has 16 pieces, a white and a black team, of these there are also some color variations. Each team is made up of 8 pawns, 2 towers, 2 bishops, 2 horses, 1 king, and 1 queen.
– The clock: Used when you want to make a tournament. Measure the time in which you make your move and once you finish and stop, start running your opponent's time. It's a great tool for lightning games where each player has only 15 minutes to complete the game.
There are those who take the game of chess quite seriously, or who use it as therapy. For these people or even those who just want to become excellent players just for fun. The best thing they can do is get a coach to help them learn and develop the skills necessary to become the best chess players.
This is why we bring you the best platforms for you to find the coach. The best suits for your needs and your abilities, in addition to the various tools that exist on each of these websites.
This is a simple platform in which you only need to log in, choose a monthly plan for your classes and schedule the times in which you want to receive your training. The classes are via Skype so you must add your teacher, in addition to joining the platform where the game will take place training.
They offer fully qualified staff, and also speak different languages so you can work with the coach you feel most comfortable with. The idea is to help you develop your skills in the best possible way.
They are one of the largest chess schools on the internet. When you register they will offer you the best service they have at their fingertips no matter what level of experience you have. Whether you handle some knowledge or not at all, they will offer you the best quality at the level of instructors.
In this platform, you will find videos that will help with the learning of tactics for your games. You will have the opportunity to choose the tutor that you think best suits your needs. They also offer you their own platform for the practices so you won't need skype or any other means of communication.
The first step is to register, once you do you will be able to choose your teacher and they will offer you a couple of useful tools to develop your skills. Of course, you will receive online lessons through this website without using other applications and you will be able to interact with other students through live games.
They also offer you interactive videos that will also be very helpful for your training.
In this platform to find your chess coach, they offer you the opportunity to participate in online games. In addition to receiving personalized or group classes, so you can choose the form of learning that best suits your preferences.
They offer you a large team of professionals fully trained to be your trainers, you have the option of seeing your classes in any language you want, the most common within the platform are the French, English and Spanish teachers.
It is one of the most complete chess teaching platforms. They give you a lot of useful tools for you to learn by yourself as well as lessons. Also, a tactical trainer that consists of playing against a computer that has endless options to get you thinking.
It offers you the service of different instructors who will help you develop the skills you need to be the best chess player.
You can also contact the community of this site, to share your concerns as well as clarify doubts or simply share your experience within this site. You will also be able to watch transmissions of professional games so that you learn the techniques of the best players.
Whichever platform you choose to find your chess coach, remember that with practice, perseverance and dedication great things are achieved.
---
If you liked the post, help the chess community sharing this article in your social networks. And write your opinion also! It's free and cost nothing 🙂
https://www.albertochueca.com/wp-content/uploads/2019/07/find-your-chess-platform-today.jpg
366
700
Alberto Chueca
https://www.albertochueca.com/wp-content/uploads/2020/03/logo-alberto-chueca-mobile.png
Alberto Chueca
2019-07-24 06:24:09
2020-03-24 14:26:23
▷ Chess Platform Guide -- Find Your Chess Coach