Anna Rudolf is a former Olympian and a chess grandmaster that you can watch on Twitch. She is one of the most fun streamers that you can find on the net making content about chess.
If you are a fan of chess you have to follow her, and here we will explain to you why. Lately, Anna Rudolf has stated that all the funds risen by her streams will be donated to Ukraine in their struggle.
An excellent way to cooperate and enjoy nice content from this streamer. Remember that watching chess streams can be good for improving in chess, and Anna Rudolf is not the exception.
You can find all kinds of content in Anna Rudolf's streams, not only chess, however, she has much content on the game. You can find her on Twitch using the nickname "Anna_Chess".
You can usually see her collaborating with other streamers like Hikaru Nakamura and The Botez sisters. Here is everything you need to know about Anna Chess, and why you should give her a follow.
How good is Anna Rudolf in chess?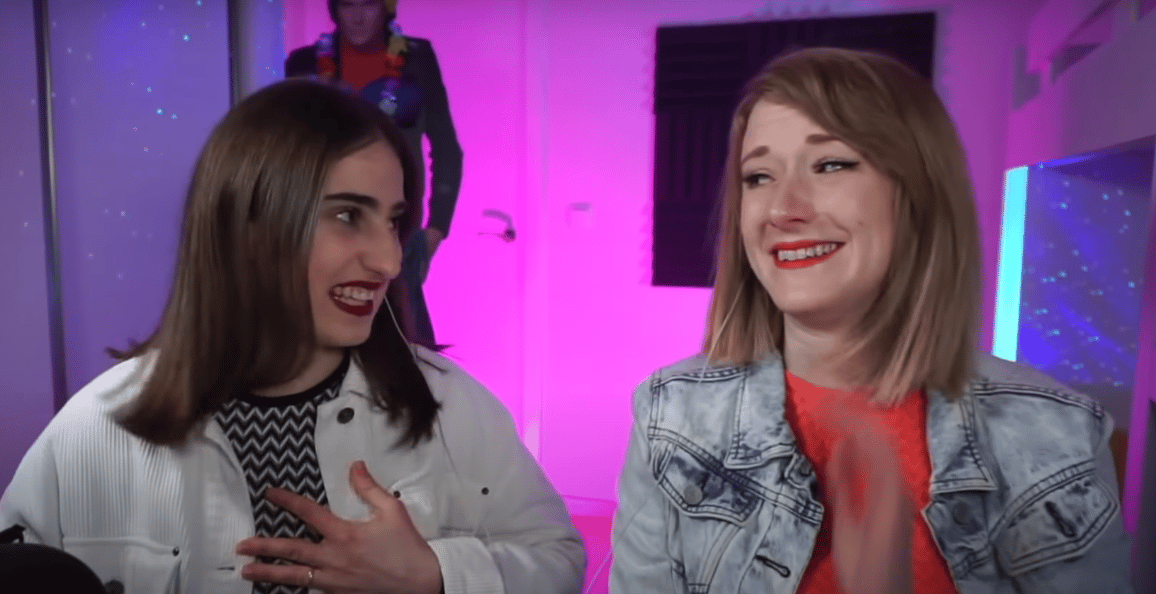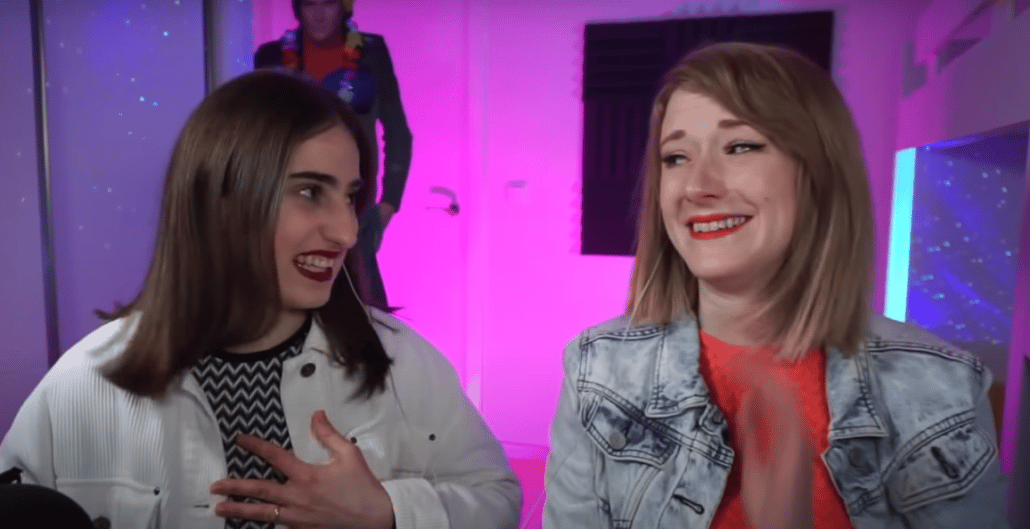 For starters, you should know that Anna Rudolf holds the titles of Woman Grandmaster (WGM) and International Master (IM). She started to play chess when she was 4 years old, which is very impressive.
Anna is from Hungary; she grew up in a modest southern town in this country. That's how she started to be interested in the game, and after that, she went to competitions.
She quickly made a name for herself for her strength on the board, being renowned as one of the best chess players in Hungary. She won the European Youth Championships and the Feminine National Chess Championships.
She also represented Hungary many times in the International Chess Olympiads! Here is one of Anna Rudolf's finest games from the European Team Championships!
What can you see on Ana Rudolf's streams?
You can find any content regarding gaming in her channels and very good collaborations. If you are a fan of gameplays too, this will suit you to the best, but if you only want the chess content that will do too.
She usually streams chess on Twitch and Chess.com, but not all of the content is for chess only.
However, you can also visit Anna Rudolf's YouTube channel, where you can find interesting chess videos. Most of them are challenges to other streamers, or playing other YouTubers as part of the PogChamps!
And then, other curious things like the unboxing of a 1000$ chess set, are more than amazing!
And the most important, you can find different chess lessons that can help you improve. For example, Anna usually analyzes games played by their fans and plays matches with them and others.
Anna made a very interesting video analyzing how AlphaZero played, and how it worked. This is the kind of content that you can learn from, and have a very good time in the process!
Anna Rudolf teaches chess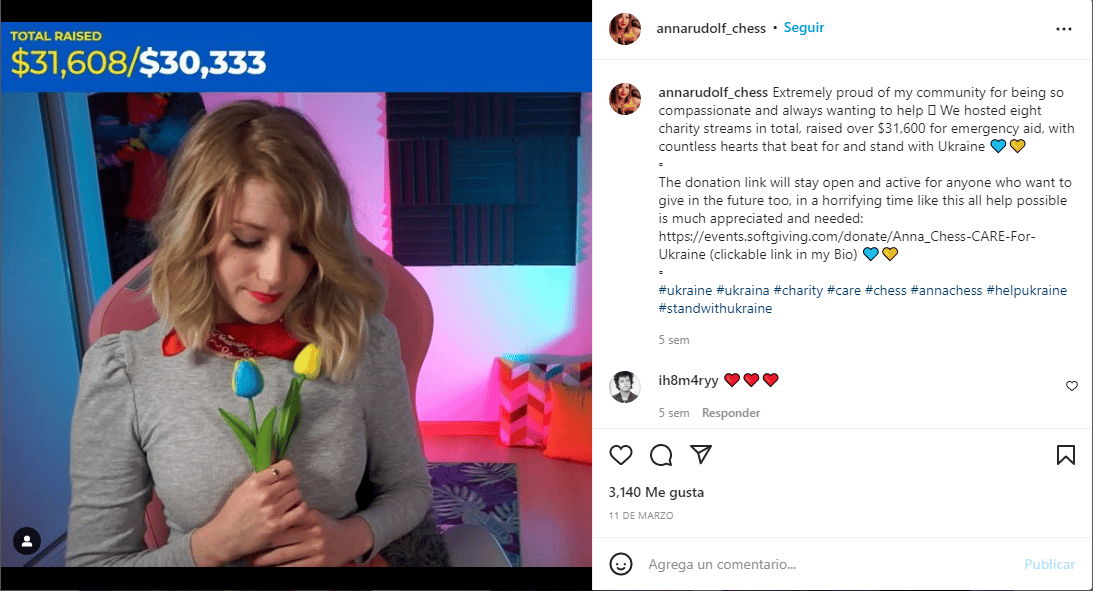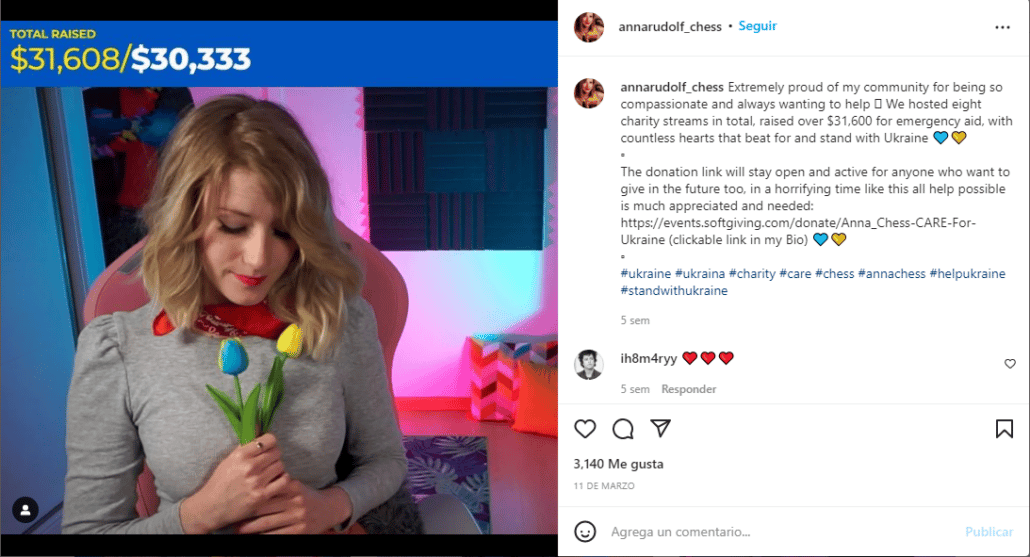 We have already talked about how watching chess streamers can't replace studying, but it can help you improve in chess. You can find very instructive chess advice, especially for some players that are not so advanced.
For example, not all the players can follow the fast and deep explanations of the GM Hikaru in-game sometimes. For that reason, it can also be worth watching other players, that way you get different perspectives of the game.
Finally, remember that you can interact with streamers, which is the best part, she answers her fans more than often. If you have a chess.com subscription you will see that Anna also has chess lessons, there.
But it's not necessary to have a subscription, you can also watch many chess lessons on her channel, Twitch, or the chess.com site.
The odyssey of the cheating lipstick!
As a final curiosity about the streamer Anna Rudolf, you should know that she was once accused of cheating. And the misunderstanding was the result of players that don't know how to lose and a lipstick!
In an open tournament celebrated in 2007, Anna Rudolf defeated the strong GM Christian Bauer. She also finished the tournament in ninth place, with a good score of 6 points out of 9.
This completed her norms for the IM title that she holds in the present. However, three players in the tournament accused her of cheating with no proof.
The argument was that she was cheating by using lipstick, which was supposed to be a device that allowed her to receive hints from others! No proof was ever found of this, but Rudolf was observed more closely by arbiters.
One of the players in the tournament refused to shake her hand before the match, as all chess players do.
The Hungarian Chess Federation complained, stating that the behavior of these players was not ethical. And that's how Anna Rudolf caused a sensation for lipstick!
You may also like: