Nodirbek Abdusattórov is the chess Prodigy who recently ruled over the world chess rapid tournament. An event that had emotions, tensions, drama, and brilliant games of course!
When everyone was expecting Firouzja to be the next world chess champion Abdusattórov was surprised with his excelling chess. Being just 17 years old Abdusattórov beat Nepomniachtchi in the tiebreaks, earning the rapid world chess champion.
He is from Uzbekistan and he has been quietly progressing in his chess career. Did you know he got the GM title when he was 13 years old? Amazing!
He already knows what beating up super grandmasters was like in 2014 in the Georgy Agzamov in memoriam tournament. He also won the sub-8 world youth chess championship.
However, it looks like he started to make some loud noise in 2020. When he shared the first place of the Mukhtar Ismagambetov in memoriam tournament with Mamedyarov!
That's the precise moment when everyone started wondering "who is this chess prodigy?". And a heck of a way we got answered! He is the boy who took the title away from the unbeatable Magnus Carlsen!
It looks like this is not the first surprise we get from him; his career is just starting. Is this the beginning of the new chess generation? Do you want to know how he became the world champion? (It's a really thrilling story) Keep reading!
How Nodirbek Abdusattórov became the chess world champion?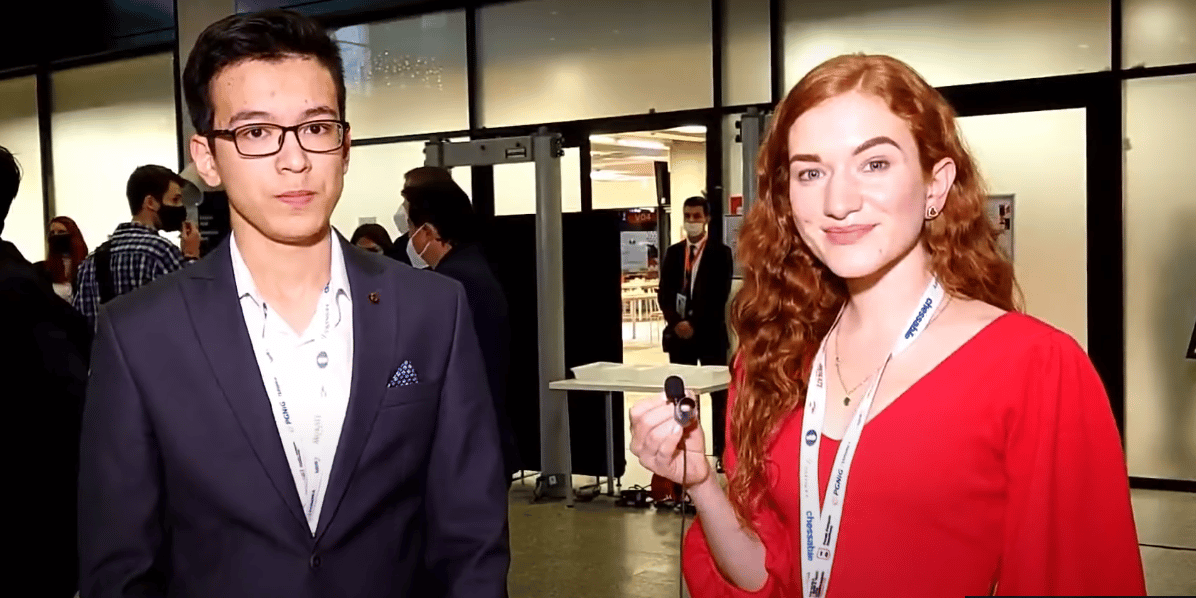 It's a very interesting story, to be honest, Carlsen, Caruana, Nepo, and Nobirdek Abdusattórov, all ended with 9,5 points! So now we have to go to tiebreaks, this is how it goes:
The first two players on the leaderboard have to play the game to decide the world chess champion. However, we have four players with the same score!
Some may agree with this and some not, but the first two of the table were Nepo and Abdusattórov. They were the ones to play the game to decide the world chess champion. In this case, both players play 2 games against each other, with 3 minutes +2 seconds increment, to the best out of two.
Neither Caruana nor Carlsen had the opportunity to go to tiebreaks, they were simply out of the competition. This seems kind of unfair, or at least for Carlsen who protested immediately stating this rule was "totally stupid" using his very words.
However, he finally showed his sportsmanship congratulating Nobirdek Abdusattórov for becoming the world champion! Abdusattórov got a draw against Nepo in the first game and won the second one in a tense rook endgame.
The competition ended with Abdusattórov imposing over Nepomniachtchi, then celebrating his success in front of the cameras!
You can see the interview with our new champion right here!
Nodirbek's Playstyle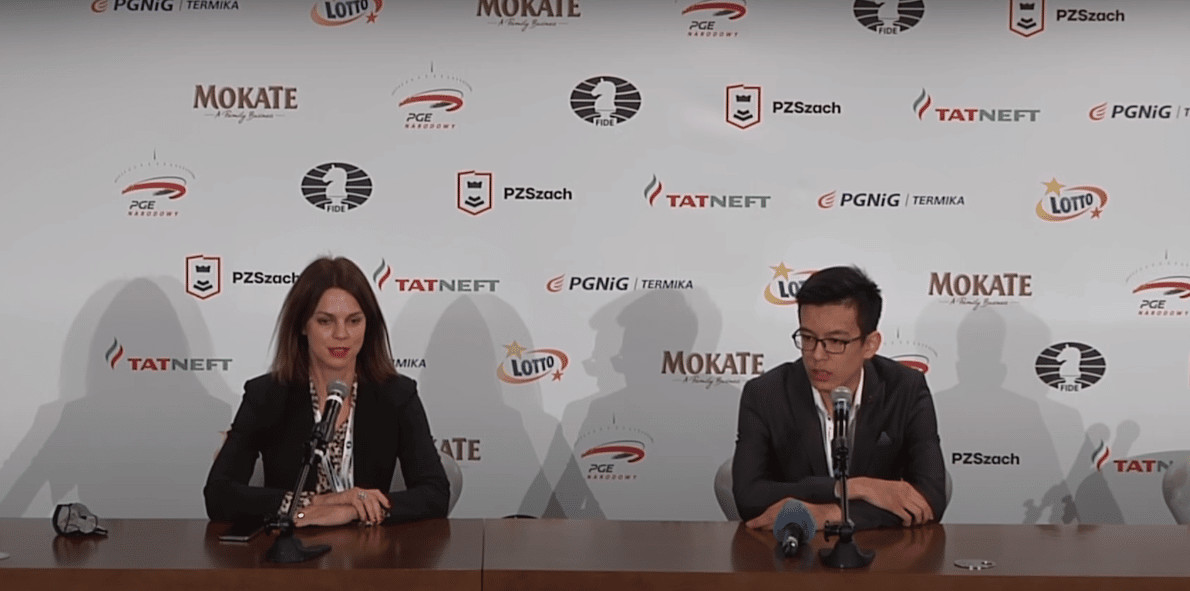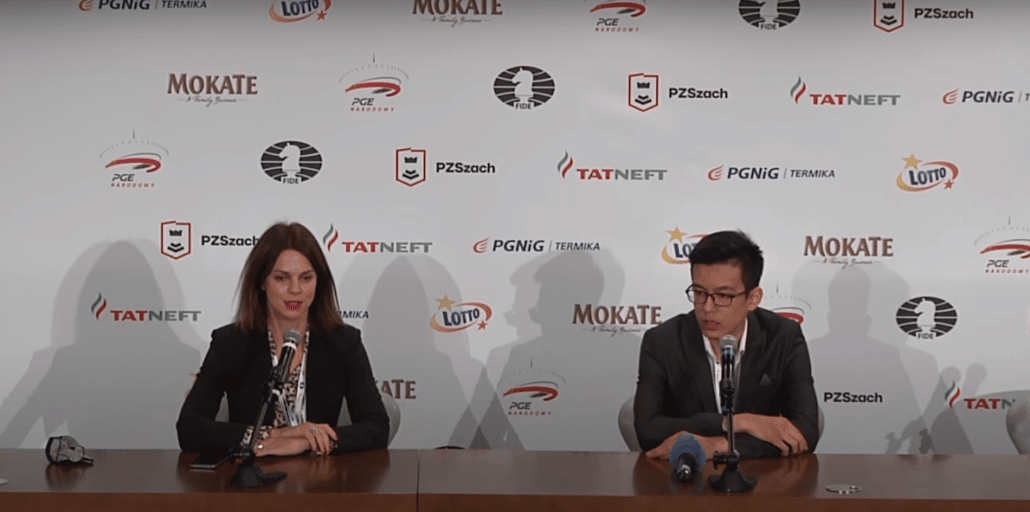 Something that we have to say about Nobirdek Abdusattórov is he is a quiet player, he simply waits for his moment to arrive. It's difficult to note playstyle at the top level because the moves are all practically coldly calculated.
Nonetheless, he tries to play pretty positional chess, what we see in the impeccable endgame technique and opening choice.
It's important to note that many opportunities that Nodirbek had to complicate the game diving into tactics were neglected. We saw that against Carlsen and against Nepo, but the nerves may be involved in that.
We state here that his playstyle is really inclined to be positional because Nodirbek sure is a master at handling pawns! It's interesting how he doesn't risk anything at any time, which is interesting to see. As he stated in a ChessBase's interview after beating Nepo: "I was trying to play without blundering!"
Some might argue that in top-level chess you always see over secure play, but it is not the case. Anyway, you should comment your thoughts about that in the comments below, here are some games that illustrate this point.
Some of the best Nodirbek's games
We will not see the whole game because it is really long, if you want to see it click here.
Interesting facts about Nodirbek Abdusattórov
There is some information that you may find a little surprising and not everyone knows, for example:
Did you know Nodirbek's ELO rating was 2593 points when he became the world champion? Yes, it is interesting because he was one of the lower-rated players in the tournament. However, he ended up playing against Magnus with 2800 and tied with Caruana and Nepo, both players with more than 2750 ratings.
Also, when the tiebreaks were about to start Nepo went to his personal room. However, Nodirbek Abdusattórov just stayed in the Player's room repeating the previous game on his head!
He was sitting there, static the whole 45 minutes before the game until 8:45 when the game against Nepo started.
You may also like:
Famous Chess Players – Generations
The Chess Promise Alireza Firouzja