The Beginning of Anatoly Karpov
Anatoly Karpov was a soviet chess player who was also the chess world champion, and a living legend of classic chess. He is one of the greatest players in whole chess history.
His story is pretty interesting, he had an illness that didn't allow him to play normally in the streets with the other kids. He was in bed at the hospital the whole time, but here is where he learned to play chess with his father at the age of 4.
He continued to develop chess as he was so passionate about it, then, unexpectedly he got the GM title by a curious mistake. The region of Czechoslovakia asked two players to the soviet federation to play in the Trinec tournament.
For some weird confusion, someone thought that they needed to be players of the juvenile category. So they sent two young players, Karpov and Kupreichik.
When organized realized the mistake it was too late for any changes, so they allowed them to play. Surprisingly, both young chess players got first and second place in the tournament, also achieving the Grandmaster title right away.
Karpov's incredible performances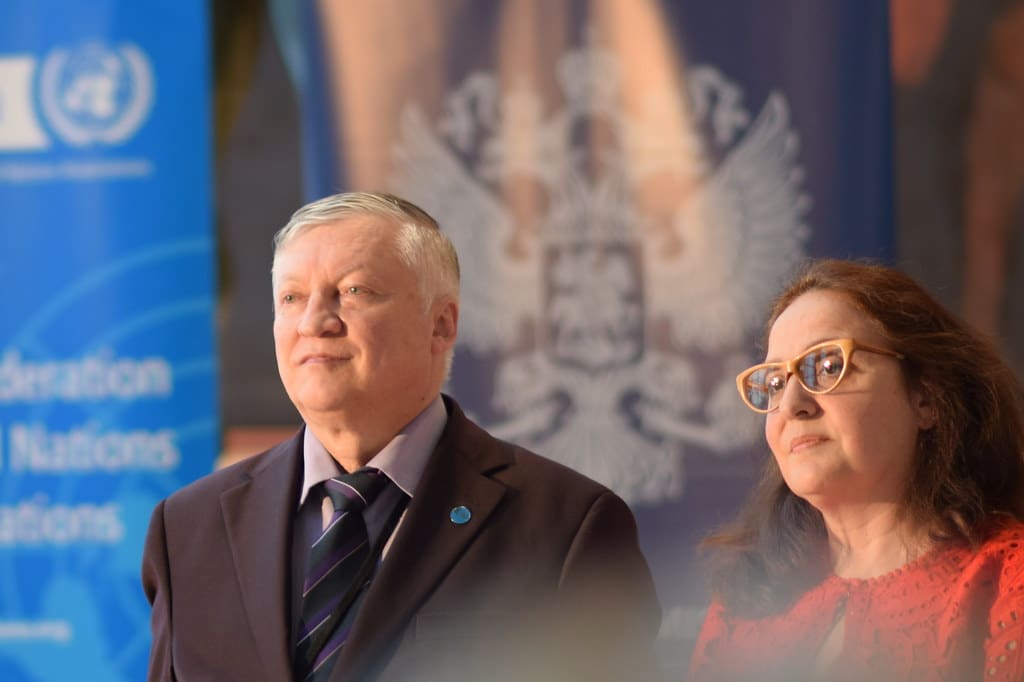 When he was 12 years old, Karpov entered the new Mikhail Botvinnik's chess school, in which he polished, even more, his talent. As we mentioned, he became the youngest grandmaster of the Soviet Union at the age of 15.
He won the juvenile world chess championship of Estocolmo in 1969, also won an important international chess tournament played in Caracas, Venezuela.
In Botvinnik's chess school he met his most important, and maybe only one chess master he had in his career: Semyon Furman.
In 1973 he got second place in the soviet chess championships and won first place in the Interzonal Leningrad tournament.
After these important tournaments were won, FIDE considered he had shown the mastery of someone deserving to be in the candidates' tournament. This is how Anatoly Karpov participated in the next candidates' tournament to challenge the world champion of the moment: Bobby Fischer.
He surprisingly, and against any prognostic won the candidates' tournament and the opportunity to play Bobby Fischer in 1975. Some of the masters he had beaten in the tournament were Lev Polugayevski, Boris Spassky, and Viktor Korchnoi.
Anatoly Karpov world champion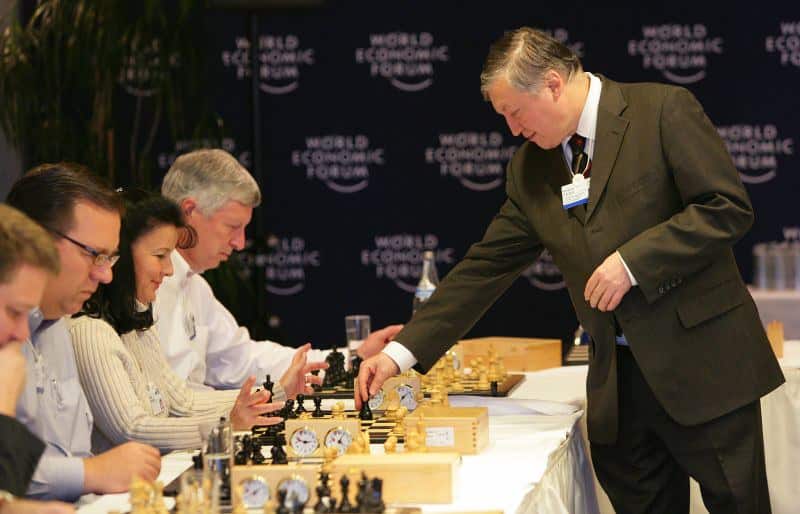 The way this incredible master achieved the title for the first time was not what we expected. Bobby Fischer refused to defend his title against the young soviet player Anatoly Karpov.
This was uninspiring for the chess community and the FIDE in general, everyone had great expectations of the match. Unfortunately, is a match that we never saw, and never will, this converted Karpov into world champion winning by forfeit.
Although the masters of the age were not too convinced of Anatoly Karpov's title they still had to accept he was the world champion. Garry Kasparov gave his opinion and gave 4 theories of how the match would have been if played.
In 4 out of 3 possibilities Kasparov had Karpov losses the match against Fischer.
Nevertheless, Karpov was proximate to demonstrate he deserved his title with pure chess strength. He successfully defended his title against Viktor Korchnoi in 1978 and was an indisputable and cruel king that ruled with an iron paw.
Winning important tournaments and showing superiority against skillful masters by the time. Karpov was the leader of almost every tournament he played until Garry Kasparov started to make some noise, he was after Karpov's title.
Anatoly Karpov and Garry Kasparov:  The greatest rivalry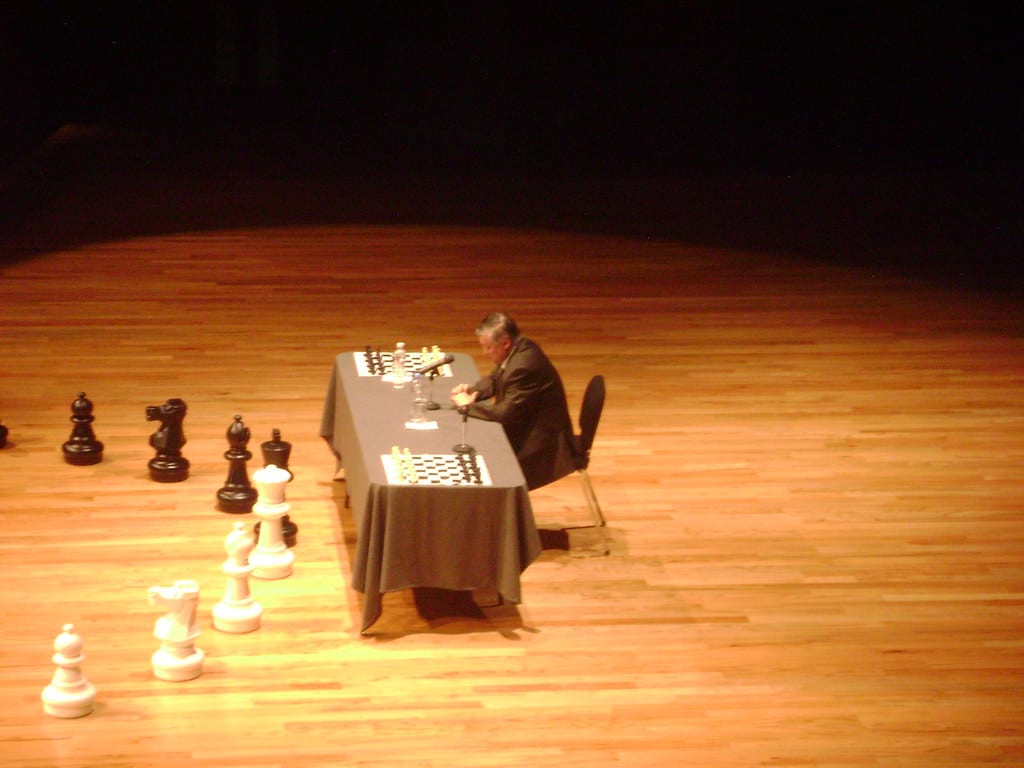 After some quiet time for Karpov, his crown started to crumble when the powerful Kasparov started to equal his strength. They had their first battle in 1984 when Kasparon challenged Kasparov for the world title after winning the candidates' tournament.
After some fierce battle, Karpov was able to defend his title and beat Garry Kasparov after a pretty tough fight. What we could see in this match is that Kasparov had a pretty unique playstyle and a different nature to the other chess players.
Garry Kasparov was the only master that knew how to beat Karpov and had the skill to do it. In this first match, Kasparov gave him a close look at Anatoly Karpov's game, strengths, and weaknesses.
It served him to prepare for the next year, and he won the chess world champion title against Karpov in 1985. But Karpov wouldn't surrender so easily, he challenged Kasparov one again in 1986.
This is how the greatest rivalry of history in sports was born, and both masters started to dispute the title year after year (1986, 1987, 1988, 1989, and so on until 1991)
The result of those encounters was the same, Garry always won for the minimum difference, and the emotions at the board were so intense.
Anatoly Karpov final games in chess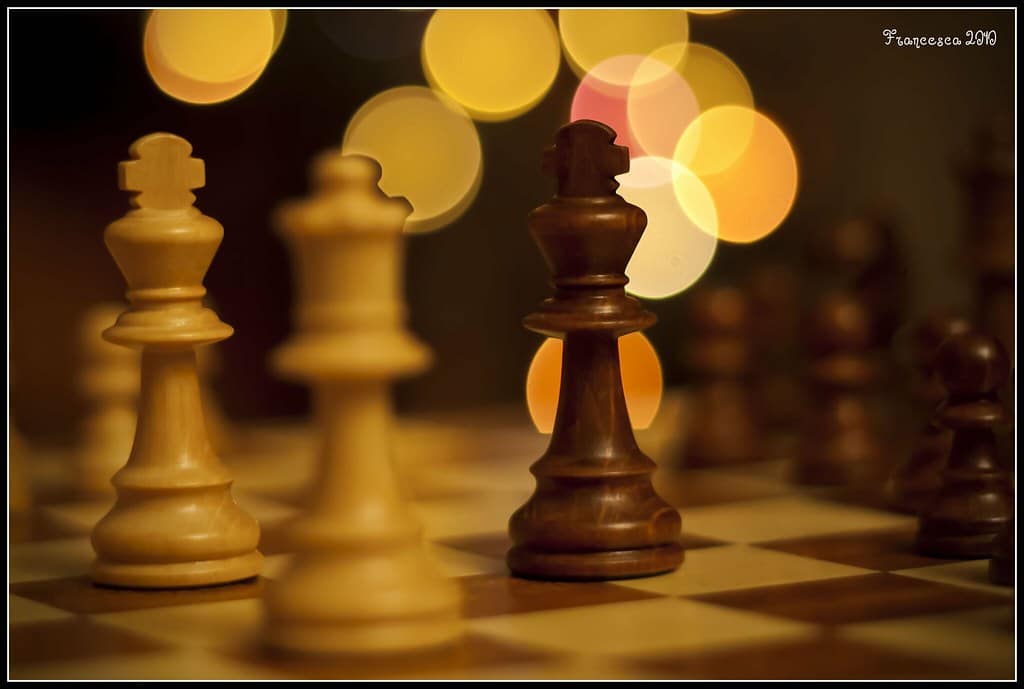 Karpov took the world champion title back from his soviet rival Kasparov. A period of disillusion and grief started for Karpov, he thought he wouldn't be able to beat Kasparov again.
This was how the years of fight between Karpov and Kasparov came to an end.
He was also struggling with new situations that were arising in his career, like different masters that were so close to his level.
Let's understand a simple matter: Karpov was the undisputed chess champion, and he had the fame of being undefeatable. This was the same since he was very young, but now things had changed.
He unexpectedly started to encounter difficulties against Viswanathan Anand, who almost defeated him in 1991. It was so long since another player than Kasparov gave him this much trouble.
Then, GM Nigel Short beat him in 1992 unexpectedly, this was a big great injure to Karpov's motivation.
But, we could say this story had a happy ending since Anatoly Karpov was able to win the maximum title once again in 1993, after winning the match against Jan Timman.
You may also like:
Fabiano Caruana the Chess Prodigy, What is his Story?
The Monster Stockfish 13 to Improve your Chess!