You can use a chess base to search through the internet for millions of games. Players from all over the world with all their information, opening books, endgames and much more information about chess.
The other meaning is each file created by the famous program of Chessbase. The use is similar.
You might ask yourself, what is this for? The answer is simple. If you are studying some opening you found interesting you can search it in a chess database. So you will find everything related to it, including thousands of people who have played it and thousands of variants to analyze.
Save data, analyze data, review all the information the chess base has.
A database will be quite useful for you to progress in your chess game. If you want to know the information about a particular player, you use it to calm your curiosity.
The best three (3) databases I will recommend to you are: Chess-DB, chessgames and ChessBase online. All with their differences, but very useful. If you want to know more about these chess databases, read on.
Chess-DB: Database is a short word for what Chess-DB contains in terms of information. You can search for players, games, current events and events from many years ago. It allows you to search by rating, age, sex, country, state, profile, etc. You find people who are almost in the furthest corners of the world. The games are registered and you can find them.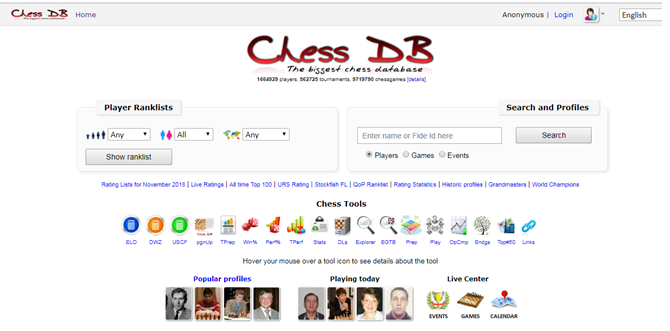 Although its design is simple. It has all the information we want to look for. On its main page, we can see the best games of the day, the most wanted people and the players of the day.
All this, with just a few clicks and you will get reliable information, as it is updated daily. Collect information from all the chess websites every day.
It currently contains 1,664,929 profiles, of which 819,978 are registered with FIDE. A relevant fact is tournament players frequently use this page to develop their skills. More than 40% of the total players used Chess-DB in 2013 to prepare for the European Youth Chess Championship.
A good and positive point of this chess database is it has several languages available for many more users to use.
To search for someone, you just need their name and check it in the search engine. You will see all the available information they have about those people, as well as their games and events in which they have participated.
The purpose of this chess database is players can prepare their games. The player can study unlimited thousands of games generated in all parts of the world, thus obtaining really valuable information and ensuring their progress.
Easily access all the games you are interested in with a single click.
Chessgames: With 16 years of operation, Chessgames meets the requirements to be one of the best and reliable chess databases. An advantage of this page that apart from searching for player data worldwide, it has a very old community. Here there are numerous information regarding chess is shared. So, for a person who requires information about an opening, an endgame or a certain move this chess database is a great option.
Probably its design is not the best, but its information is very accurate. What I like about Chessgames is when you look for a player, it provides you with all the games registered and with which opening it started, whether it played with white or black pieces and whether it lost or won the game.
Reviewing openings, you can see through one of the best Stockfish chess engines, its analysis. You can also see in a game the evaluation of any kind of position, full game or variation. If you want, you can download the PGN file to view and analyze it on your preferred platform.
Its database is updated every day. So, you can search for the most important chess games have happened and are happening. If you need to see a game of Kasparov, Magnus Carlsen, you can do it at any time!
It has a chess books forum where users share, discuss and research great books to instruct you in this world.
Explore each chess base
Chessbase (online database): Probably the most known chess program. Although the list of information is not as long as that of Chess-DB, this chess database offers something good: its design and accessibility. About the players, it offers you the list of the top 100 and its games updated every day. It also has a section of tactics, videos, openings, news and quizzes will help you in your knowledge, in short, many interesting articles for you.
You can review the top 100 moves in depth, as well as your games because it gives you the option to play online. If you register, you have the possibility to save the games you make in the cloud and then review them, it also gives you the option to open your saved PGN and analyze them through its chess engine.
If you have an interesting game you want to store, it gives you the opportunity to download it directly to your pc or in the Chessbase cloud.
No doubt a good chess database, still has things to explore, however, its positive point is its good design, user-friendly. So, if you want to play, store your information and review the best matches in the world without looking so hard, this is your choice.
Chessbase has got a famous offline database which is the most known database in the chess world.
And you? Have you each chess base or used them to prepare your games? Tell us your experiences or doubts in the comments! 
---
If you liked the post, help to the chess community sharing this article in your social networks. And write your opinion also! It's free and cost nothing 🙂
https://www.albertochueca.com/wp-content/uploads/2018/12/25-chess-base.jpg
366
700
Alberto Chueca
https://www.albertochueca.com/wp-content/uploads/2018/02/Logo-AlbertoChueca-2.png
Alberto Chueca
2019-06-03 06:03:06
2019-06-16 05:04:26
What is a chess base and what are the best ones? Discover how to use it.