Last Updated on
Like everything in life, there are times when we think everything is going well and other times when we think everything is going completely wrong, that is how it is in chess, days when you play like a great chess master and days when you look like a beginner reading the rules. This begs the question: What do I have to do to develop a perfect chess game?
Before I give you my advice for you to play well, I want you to know something fundamental: Chess is a game where you need a lot of concentration and you know more about theory than practice. With practice, you gain experience but with the theory, you gain games, if you have both, I assure you that you will go far in the game, but this is achieved with good learning methods, studying, watching videos, documenting yourself and of course playing!
You can get the game you've always wanted
The following secrets for a perfect chess game are based on my experience, reading special chess articles and considering the advice of the great chess masters. With nothing more to say, here are the five secrets:
1.- The start of your chess game
The beginning is like the saying "the first impression". If you feel safe in front of your opponent, you speak with a good voice, without fear, and with seriousness, perhaps saying some light joke to alleviate the tension, you will cause a feeling of security and it helps a lot in the psychological part, both for you, because you start playing in good shape, and for your opponent, who will surely think he has a good opponent to face.
In this case, the following may occur:
Your opponent, noticing the confidence you have and after you start your game motivated, with good openness and a visible strategy, your opponent will begin to distrust his movements, feeling a little insecure. This is law, chess is also a mental battle.
To feel good is to do it well and if at any time you make a mistake, believe me, it is not so serious when you are in a good mood and psychologically prepared, as you can find solutions faster and not get stuck.
So, start with your best opening, move the piece fast if you already know the moves you're going to make and if you're playing with the clock, you'll already have a 50% chance to win.
2.- Win material
Before starting a game or already started this one, only with the opening of your opponent you can get an idea of his style of play and how to attack. Focus if you are going for the king or if on the contrary, you are consuming little by little the material of the other player to win. Your victory will depend on this.
To be able to do this, you will have to put into practice something simple, but professionals use:
Have a geometric game. By this, I mean you try to make your pieces like bishop and pawn diagonally attacking an enemy piece.
Always defend your pieces, because when you keep them defenseless you are more likely to be captured and end up losing material.
Take advantage of your opponent's defenseless pieces to capture them, each piece misplaced in a piece we eat, even if it's a pawn (watch out for traps).
Being aware of all moves will always help you
3.- Concentration on your chess game
This point is important because when I talk about concentration is there is an important point in the game in which you should not lose it in any way. Chess resembles tennis. There are players when they see themselves in advantage take a breath, that is to say, they rest and to do this is a very serious error because it is in that moment when its opponent begins to make pressure so that it fails. Giving yourself a break means that your brain thinks you've already won and doesn't work hard enough to finish the game, it also increases the chances of you making a mistake and you can even give your opponent a chance to win. Remember the other person only thinks about winning you, about finding something to save him, and if you allow him to do so, he will find it.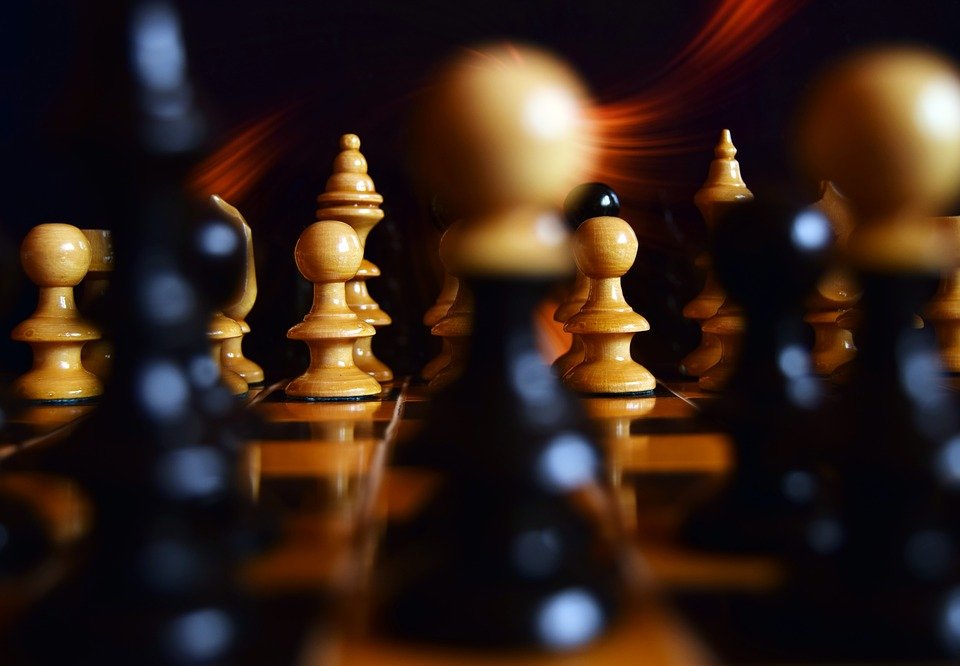 4.- Attack
Don't stop, but don't overdo the attack either! My best advice for a perfect chess game is to be attentive to attack, look for the squares where you can make pressure without losing the advantage. Players who have a passive game have a harder time winning, it's not that they always lose because they don't, playing passively also has its advantages, but in the end, it can bring more complications. In my opinion, the defense is more difficult than the attack, therefore, concentrating on attacking, pressure, exhausting the opponent's material is the best.
If you are playing with a clock a game of fast chess, this tactic is ideal for you. When you push too hard, your opponent tends to get nervous and this leads to him making mistakes, however, you have to do things right, defend your pieces and attack with firm moves.
5.- Stay firm during your chess game
If you start with a previously defined strategy, it may not work for you in the end, there is a good chance you need to change it, the point is, you cannot do it drastically, you must do it consistently. Imagine that you started moving the pieces centered on capturing the king, but you need to capture the queen, you can't leave all your pieces in attack position to the king and think about attacking the queen! You must find the best way to use the strategy you had to attack both, otherwise:
It will cause failures.
It will cause openings in your defense.
You may end up losing important pieces.
All of this will lead to a restructuring of the defense instead of the attack.
If you manage to align your original plan with your secondary plan you will be able to achieve the goal of checkmate.
The game of chess is totally perfect, simple for the one who knows the rules but difficult for the one who plays it. Do not underestimate it, this game is very fun but at the same time is very serious, so it is essential to keep calm and firmness during the development of it.
---
If you liked the post, help the chess community sharing this article in your social networks. And write your opinion also! It's free and cost nothing 🙂
https://www.albertochueca.com/wp-content/uploads/2019/01/yourchessgamescaled.jpg
366
700
Alberto Chueca
https://www.albertochueca.com/wp-content/uploads/2020/03/logo-alberto-chueca-mobile.png
Alberto Chueca
2020-01-10 18:00:30
2020-03-24 14:13:03
▷ Your Chess Game Scaled to the Next Level