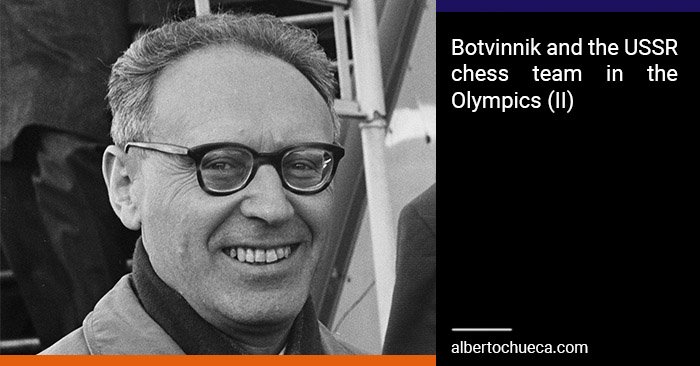 Last Updated on
The USSR participates in the Olympics…
When the team members of the Soviet team were gathered in Voronovo, near Moscow. They all had the feeling that Botvinnik was not in form. And the Chess Section convoked them all and a delegate interviewed (interrogated?) each one of them individually.
Botvinnik shared later that they asked him if he could secure the individual gold medal in the first board (he did not say what he answered). He suspected that Keres had answered affirmatively to that question.
On the next day, he asked Smyslov if he was part of the conspiracy to isolate him from the team. And Smyslov had denied (as, of course, anyone would have done, because and besides, it was not any conspiracy).
However, Botvinnik, accustomed to the intrigues of the Soviet chess, and informer in his privileged position, pulled the strings. As in the case of Bronstein, whom he has asked, "Don't you think that I have a place in this team?" Bronstein answered, "Yes, but not in the first board."
Botvinnik and the championship…
Botvinnik was not willing to assume the humiliation of defending a board that was not the first one. And hence he was finally replaced by Geller. Paul Keres (who had also won the tournament of Budapest) would be the leader of the Soviet team. And Smyslov, Bronstein, Boleslavsky and Kotov would be the other members.
The 10th Olympic was played between 10th and 30th August 1952. With 25 national teams, was divided into three groups (one of 9 and two of 8). The first three teams classified each team to dispute for the Final A.
In the previous phase, the Soviet team (Keres, Smyslov, Bronstein, Geller, Boleslavsky and Kotov) gained 23.5 points (of 28 games), easily winning the first qualifying position. As expected, the USSR imposed its team in the Final A, but not clearly, as they ceded three draws in the other encounters, overcoming in only one and a half points to Argentina (silver) and in two to Yugoslavia (bronze).
Curiously, and although Smyslov and Bronstein both garnered several gold medals in their boards. The performance of Keres resulted in an authentic fiasco, as he has only gained 6.5 points in 12 games (+3=7-2), in contrast with the first Argentinean board, Najdorf, who gained 12.5 of 16.
---
If you liked the post, help the chess community sharing this article in your social networks. And write your opinion also! It's free and cost nothing 🙂
https://www.albertochueca.com/wp-content/uploads/2016/07/botvinnick.jpg
366
700
Antonio Gude
https://www.albertochueca.com/wp-content/uploads/2020/03/logo-alberto-chueca-mobile.png
Antonio Gude
2019-06-03 05:16:52
2020-03-24 15:17:38
▷ Botvinnik and the USSR chess team in the Olympics (II)